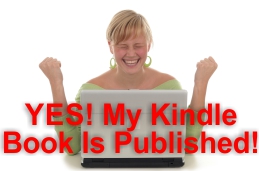 Do you have a book inside you waiting to be born? Is your manuscript sitting in a drawer somewhere, when it could be transforming lives? Or maybe you've already been rejected by a traditional publishing company.
Here's the top 7 reasons it's time to dust off your manuscript and take advantage of Kindle Direct Publishing to get your book – and your message – out to the world.
Hi from Gwenn,
Today, I'm giving you the top seven reasons you've gotta get your book published on Kindle. In other words, the top seven reasons you've gotta get your butt in a seat on Tuesday, Feb. 11th and learn  how to Write and Publish Your Kindle Book. Now!
REASON #1: You Are Leaving Money On the Table by Not Publishing on Kindle…
The publishing – and reading – world has changed, and it's time for you to take advantage of the shift that makes it easier than ever to share your transformational message with the world.
More and more people are reading books on ereaders, and more and more ereader devices are being sold. Although Amazon doesn't release statistics, Morgan Stanley research estimates Amazon sold $4.5 billion worth of Kindle-branded devices in 2013, a 26% increase from 2012. Forrester Research Report shows that ebook buying will continue its upward spiral, expecting $50.5 BILLION in ebook sales this year, and $59.6 BILLION in 2015.
Yes, that's in billions. And chances are, most of the people who purchase Kindles are using them to read Kindle ebooks. And the Kindle app makes it easy to read Kindle books without a Kindle. Do you have the Kindle app on your ipad, or your smart phone, or your computer?
In 2012, 67% of all ebooks were purchased as the Kindle version from Amazon. So if you're writing an ebook, you want it to be available on the biggest online retailer on the planet.
These numbers are staggering. Kindle publishing is no longer considered a phase. It's the smart and efficient way to get your message to the masses.
REASON #2: Amazon Wants You To Get Your Message To The Masses
In 2013, more than 200,000 exclusive books were added to the Kindle store and 150 Kindle Direct Publishing authors each sold more than 100,000 copies of their books.
And as many as 25% of the top 100 Kindle books on Amazon.com are from indie publishers. Instead of taking the stance of the traditional publishing industry and frowning on self-publishers, Amazon gives aspiring writers the perfect platform by listing their books alongside those from traditional houses.
REASON #3: Amazon Kindle Programs Are Designed To Sell Books – Let Them Sell YOUR Books
Kindle Direct Publishing authors sold hundreds of thousands of books in November through the new "Kindle Countdown Deals," where Amazon allows authors to discount their books, then promotes those discounts to Amazon customers who bought similar books, and even includes a "countdown clock" showing when the discount ends to boost impulse buys. All fantastic marketing strategies designed to get the author more visibility and more sales.
Amazon isn't stopping there. A new "Matchbook" program was just unveiled, giving authors the opportunity to offer their Kindle book at a discount to purchasers of the print version, and vice versa. The perfect upsell!
REASON #4: Kindle Publishing Can Create A Healthy Income Without Spending Money Up Front
Kindle authors can receive up to 70% of the book price – way more than the buck or two you'll get from traditional publishing houses. You don't have to spend thousands up front for editing, book cover design and printing for hundreds of copies you don't have time to – or don't know how to – market and sell on your own.
And some Kindle authors are doing quite well: "Most of my months are six-figure months," said Hugh Howey, a 37-year-old Florida author whose"Wool" series my hubby fell in love with. "It's more than I ever hoped to make in a year."
REASON #5: Publishing Boosts Your "Expert" Status
I've also heard stories of non-fiction authors getting interviewed on TV or interviewed for trade magazines as experts because they have a series of Kindle books on a subject (we'll cover how to do this in the workshop).
REASON #6: Amazon Is The Largest Online Retailer On The Planet
I mentioned this before, but it's worth repeating: Being a Kindle author opens you up to a brand new world of prospects who are looking to purchase that otherwise might never see your message. Enough said.
REASON #7: Kindle Direct Publishing Is Easier Than Ever
Amazon has made it easier than ever to publish your book on Kindle with more doable formatting, and the uploading process is actually quite painless. Remember, Amazon wants to support you because the more books you sell, the more money they make.
In the past, I've had to write my ebook, publish it to PDF, build a website to promote it, create content for a sales page, have a way to make sure the customer got delivery of the ebook and was able to download it correctly (I can't tell you how many emails I had to respond to in the middle of the night because people didn't know how to download a file from the internet), set up an  way to collect payments and send refunds online, continually search for potential customers, then spend time and money promoting the ebook to them or else sales dried up.
With Kindle, all you have to do is write and publish your ebook ONCE – and let Amazon sell it over and over and over…
Think about it. People searching on Amazon already have a credit card in their hand. 
… why not let Amazon market your book, collect payment, handle delivery, promote your other products, and send you a paycheck each month?
How To Write and Publish Your Kindle Book Workshop
Join me  Tuesday, February 11th, 2014 at 11:30 AM at Your Big Picture Cafe in Davie, Florida, as we write and publish a Kindle Book using a 6-Step Checklist that automates the process. Without spending your profits before you make them!
This is a first of two workshops, and while you'll get the 6-steps, we're covering the first three steps in depth, with a follow-up workshop next month. Pre-registration is $25 in advance, and it's $30 at the Door. Of course you'll get the Workshop Replay. And if you attend this first module, I'll discount the second one for you.
CLICK HERE to PRE-REGISTER for only $30.00 $25.00
Or CLICK HERE for more information.
Once you get the process under your belt, you'll be able to rinse and repeat! That's why I developed the checklist – because I have many manuscripts that I'm challenging myself to publish on Kindle this year. And I'm excited to share this process with you – let's get together and get published!
And did I mention – we're always give away door prizes (FUN!)
REGISTER NOW and I'll see you in the author's circle! 

Gwenn Bonnell
PS Did I mention that  people searching on Amazon already have a credit card in their hand? That might be the most important reason of all: They are searching for your message and they want to buy your book. So get it written and published NOW!
So get your credit card and CLICK HERE and REGISTER NOW so you can start getting paid by Amazon Kindle : )

Tags: business help, internet marketing, Kindle Book publishing, kindle book workshop, transformational entrepreneurs, women that heal, writing workshop ft lauderdale, Writing your book