Brand NEW  Live Workshop Video Replay reveals how YOU can discover and delete the unconscious programs blocking your success with EFT Tapping!
RETRAIN THE BRAIN:
Reset Reversals, Stop Self-Sabotage & Program Yourself for EFT Tapping Success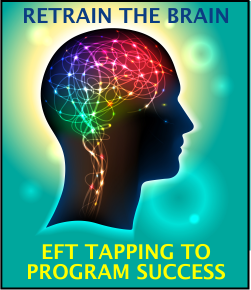 Have you ever found yourself not getting the results you want from EFT tapping, no matter what the issue?
Or worse yet, finding your problem gets worse?
It's probably NOT because you're no good at tapping.
So what's the problem?
Maybe your energy system is so whacked out (that's a technical term) that NOTHING is going to help, not even the tapping.
Or, you might have unconscious conflicts that are blocking your success (with tapping or in life).
There is still hope for you!
In fact, you'll be surprised at how EASILY you can reset your energy system and clear self-sabotaging reversals.
You don't have to be a brain scientist, or even an EFT Tapping Practitioner.
You just need to know what you need to do before any tapping session – for any issue – that easily retrains your brain to stop sabotaging you and start supporting you!
I'm sharing these secrets so you can Retrain YOUR Brain!
In this powerful program, you'll learn how to:
Identify and correct 10 different kinds of energy reversals and disorganizations so you can get maximum results from ANY intervention, including EFT tapping, and your affirmations actually start producing the results you intend…
Use a simple BIOFEEDBACK TOOL so you can identify EXACTLY what limiting belief program is running your life and interfering with your EFT results. Once you isolate the programming, you can easily reprogram your mind with Tapping.
Employ valuable EFT TAPPING TEMPLATES that correct for 13 different Psychological Reversals that cause Self-Sabotage. Chances are, you only have one or two of these – and you'll learn exactly what to say while tapping to clear up your personal issue and to catapult your tapping success.
I know you're ready to discover the stealth secrets I use with clients to get real results with our tapping.
Even if you don't always have me tapping with you, you'll learn what I learned years ago: How you can tap into the wisdom of your own body to make tapping work for you!
CLICK HERE to Download the Workshop Replay
 Only $37.00 $67.00
INCLUDES Your Downloadable Video Replay,
Audio MP3 files, and Handouts.
PRESENTED BY EFT Tapping Expert, Gwenn Bonnell
Gwenn Bonnell has been practicing and teaching EFT Tapping and Energy Medicine since 1998, holding workshops in the Ft. Lauderdale, South Florida area and offering consultations worldwide.
An expert presenter of the online Tapping World Summit since it's inception, Gwenn is also a presenter at IGEEM (International Gathering for Eden Energy Medicine) Conferences, is a member of the ACEP (Association for Comprehensive Energy Psychology), and holds certification as an EFT (Emotional Freedom Techniques) Practitioner from it's founder, Gary Craig.
Gwenn has also trained in Energy Medicine with Donna Eden and was one of the first to incorporate Energy Medicine into an EFT practice. She has also studied Touch for Health (Applied Kinesiology), Small Animal Acupressure (Amy Snow and Nancy Zidonis), and last year completed the Acupressure Mastery Course by Michael Reed Gach.
She offers personal EFT phone consultations worldwide and monthly live workshops in the Ft. Lauderdale, Florida area. And if you can't make the live workshop, order the downloadable recordings and handouts now at the pre-registration price, because the price increases once we go live!
DOWNLOAD YOUR REPLAY NOW
and catapult your EFT Tapping results by discovering
exactly what is blocking your tapping results
and how to reprogram your brain for success!
INCLUDES DOWNLOADABLE REPLAY PLUS HANDOUT!
for the amazingly affordable PRICE of only $67.00 $37.00
"And thank you SO much for today's wonderful session.
I am already feeling a massive amount of symptom relief
related to the breathing! It's miraculous. I feel that I can
finally move forward!"
– Josh, live workshop attendee
Click Here and Start Clearing Reversals and Self Sabotage Now!