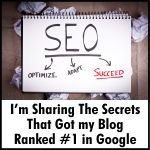 How do I know that the "Experts" really don't want you to know how to get your web page or blog post ranked high in Google? Because  when I posted in a Facebook Practitioners group the "secret" common-sense strategy I used to get my brand-new blog ranked #1 in  Google, the thread disappeared the very next day! Here's the comment that they thought disappeared forever…
Hi from Gwenn,
I Couldn't Believe it – They Took Down my Facebook Post About How I got Ranked #1 in Google!
A couple of months ago, I made a few comments in a Facebook Practitioners Group to answer the question "Can anyone  make a good recommendation on how to launch a website that can be found with "search words?"
Another practitioner answered she had started a website 6 weeks ago and it was now ranking #2 in Google for her search words.
Which prompted me to check the google ranking for my new website www.tapawaypain.com. I was surprised to see it ranking #2 in Google and said so in the Facebook thread.
I also explained the three steps I took to get such high ranking for my "search words" so quickly. After all, the blog was not even three weeks old!
The banter went back-and-forth in the Facebook group. Questions asked, questions answered. The next day, my web site ranked #1 in Google for two different sets for two different sets of keywords! So I jokingly asked the group if they had been clicking through to my site to boost it to number one 🙂
At the time, I was creating the slideshow that is available on this website as a free video download: "Simple Strategies to Boost Your Visibility, Your Credibility and Your Bottom Line."
And I wanted to use my original "three steps" comment in the slideshow.
But when I went back to the Facebook group, I couldn't find the thread! The original post, and all comments had vanished. Gone. Kaput.
Luckily I hadn't deleted one of the emails from Facebook that still had that part of the thread so I was able to retreive my words of wisdom!
But when I clicked through the link in that email to Facebook, here's what I saw:
I couldn't believe it! Guess someone didn't like me spilling those secrets!!!
What's my comment that got deleted?
"This is a long conversation and there are lots of products are out there – some helpful some outdated. You can learn a lot by reading blogs of knowledgeable Internet marketers. I get my websites front page ranking on Google by 1) Understanding what keywords people are searching for, 2) Making sure the titles and descriptions of web pages, articles and blog posts include those keywords, and 3) Providing keyword relevant content. Google loves content.  Blogs, articles, etc the more the merrier. To rank high it's gotta be original content and truly include the search terms you want to rank for."
Here's a reply after I posted that I got #1 ranking (of course, this got deleted too…)
"I know people that have spent upwards of $25K on a website that doesn't get any traffic."
Why is this important? If you you truly want to get your message out to the world, and you have a website but you're not getting any "hits," or you're just starting a blog, or even if you already have a webmaster but you're lost in Google, then you need to understand the common-sense approach I outlined above and make it work for you.
This is your chance understand the lingo, look past the myths, and get the exact checklist I used to get your website ranked higher and get more visibility online without spending hundreds (or thousands) of dollars!
I'm presenting How to Get Free Google Traffic Using Common Sense SEO the Experts Don't Want You to Know live in the south Florida area on Tuesday, October 8th, at 11:30 AM at Your Big Picture Cafe in Davie, Florida.
If you're in the area, please attend – you'll be able to ask questions and pick my brain. Plus we're giving away door prizes (FUN!)
This Event is over, but you can still purchase the video replay, including the slide handouts + checklist so you can use to start attracting free Google traffic to your web page or blog.
ORDER AT www.womenthatheal.com/seo-secrets
Tags: business help, common-sense SEO, google ranking, internet marketing, SEO, transformational entrepreneurs, women that heal